Now you can finally learn everything you need in order to switch to a new high-demand blockchain career with Udacity's convenient Blockchain Developer Nanodegree without taking time away from your current job to enhance your skills to build decentralized projects for the real-world application.
This spells an opportunity for experienced developers who are interested in blockchain to learn the fundamental concepts to work with the Bitcoin and Ethereum protocols.
The program is guaranteed to run with technical mentorship to help developers become highly equipped with blockchain skill set. That also means there are deadlines to contend with, which is ideal if you don't thrive in a self-paced setting like many disappointed learners.
You'll gain functional knowledge to explore the Ethereum platform, and learn Solidity and smart contracts to develop decentralized applications using Node.js and Leveldb.
Editor's note: kanger.dev independently reviews resources that are not suitable for everyone. To make wise decisions, we recommend reading "Is it right for you?" and checking out independent reviews.
BlockChain Developer Nanodegree – Is it right for you?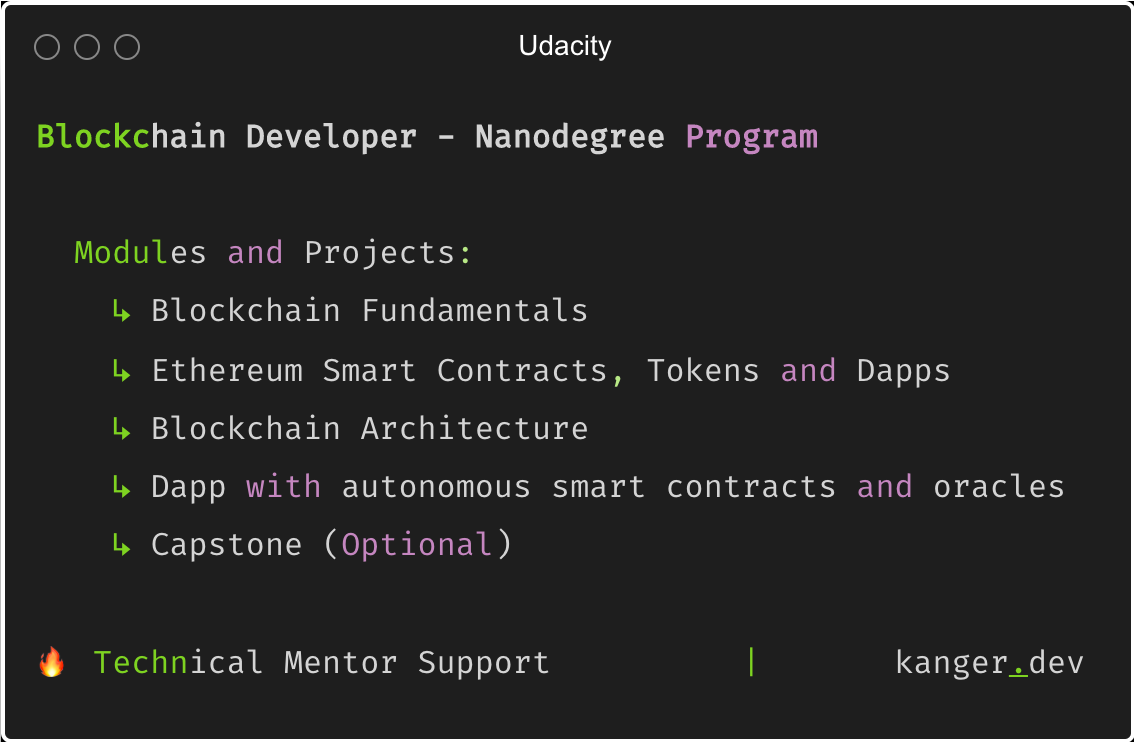 Udacity's Blockchain Developer Nanodegree program is highly collaborative and career-focused. The program will help advance your blockchain skill set to build you up with a deeper understanding of the Ethereum platform and intricacies of Solidity to develop, test, and deploy robust and secure decentralized applications.
PRO – Learners get matched with an expert blockchain mentor who they'll meet for technical guidance and feedback on projects.
CON – Based on the student review data points, the concepts and projects can be intimidating for absolute beginners.
Udacity Nanodegree Programs
Blockchain Developer Syllabus – What you will learn?
It features five modules that introduce developers to the basics of how the blockchain data model works and gradually takes them through its varied applications. Through the hands-on labs, developers can expect to build an advanced understanding of the blockchain architecture and advanced concepts such as privacy, security and decentralized file management.
1. Blockchain Fundamentals
The course explores the blockchain fundamental concepts that make a blockchain cryptographically secure and immutable. You'll create Bitcoin blockchain as you learn to architect a blockchain data model using Node.js and Leveldb.
2. Ethereum Smart Contracts, Tokens and Dapps
This module focuses on how to leverage Ethereum blockchain to build compile, and deploy a decentralized application (Dapp) with smart contracts and the non-fungible (ERC721) token standard.
3. Blockchain Architecture
You'll explore blockchain architecture to build a supply chain system on Ethereum blockchain, a decentralized app (Dapp) that allows users to verify the authenticity of an item as it passes through different hands in the supply chain.
4. Dapp with autonomous smart contracts and oracles
This part is hands-on — you'll gain skills by developing a functional Dapp that will perform actions based on external triggers caused by our actions and handle payments. It also teaches how to employ third-party data sources to inform autonomous smart contracts which you'll apply for the flight delay insurance project.
5. Dapp with autonomous smart contracts and oracles
Finally, you'll apply your knowledge and skills in the capstone project to build a decentralized property listing application with mint tokens to represent claims to the user property. You'll then make these tokens available for sale on the blockchain marketplace to demonstrate your expertise.
---
TL;DR
The program may seem exhaustive, but it is comprehensive to become highly equipped for blockchain developer jobs. It includes real-world projects and immersive content — you'll master the blockchain skills companies want.
It is profitable for seasoned developers.
---
Disclosure: The views expressed in this article are those of the author and do not reflect the views of Udacity, Bitcoin Foundation, Ethereum Foundation, or their partners. This article may contain links to content on third-party sites. By providing such links, kanger.dev does not adopt, guarantee, approve or endorse the information, views or products available on such sites.
kanger.dev is supported by our audience. We may earn affiliate commissions from buying links and Ads on this site.