We all know that VPNs are in many ways super helpful for all developers and now they've become really handy and more affordable.
If you are looking for a VPN service to anonymize your identity, access geo-blocked content and traffic, or even just use it to browse the internet safely. Consider this article as your salvation to privacy.
In this direct-to-point guide, you'll find the VPN services that make you identify anonymously, encrypt your internet traffic, and shield your devices with the anonymous location.
We compiled this list based on the security features, encryption mechanism, speed, etc.
Let's take a closer look at each VPN service.
---
Top 5 Best VPN Services for Developers
We have come up with the top 5 best VPN services for developers and everyday users we think are a good value for service both to developers and also to end-users.
---
ProtonVPN is a security-focused VPN service, developed by CERN and MIT scientists and currently operated by the Swiss company Proton Technologies AG.
It's well known for the world's notable encrypted email provider, ProtonMail, and is simply best for developers and everyday users.
Proton VPN is remarkably good for all the advanced features like Tor anonymization network for an affordable pricing scheme that places it well within impulse-purchase territory.
It includes some robust security features like Secure Core Network, Secure Core Routers, and Tor Support. It is our favourite VPN service for its security and privacy features.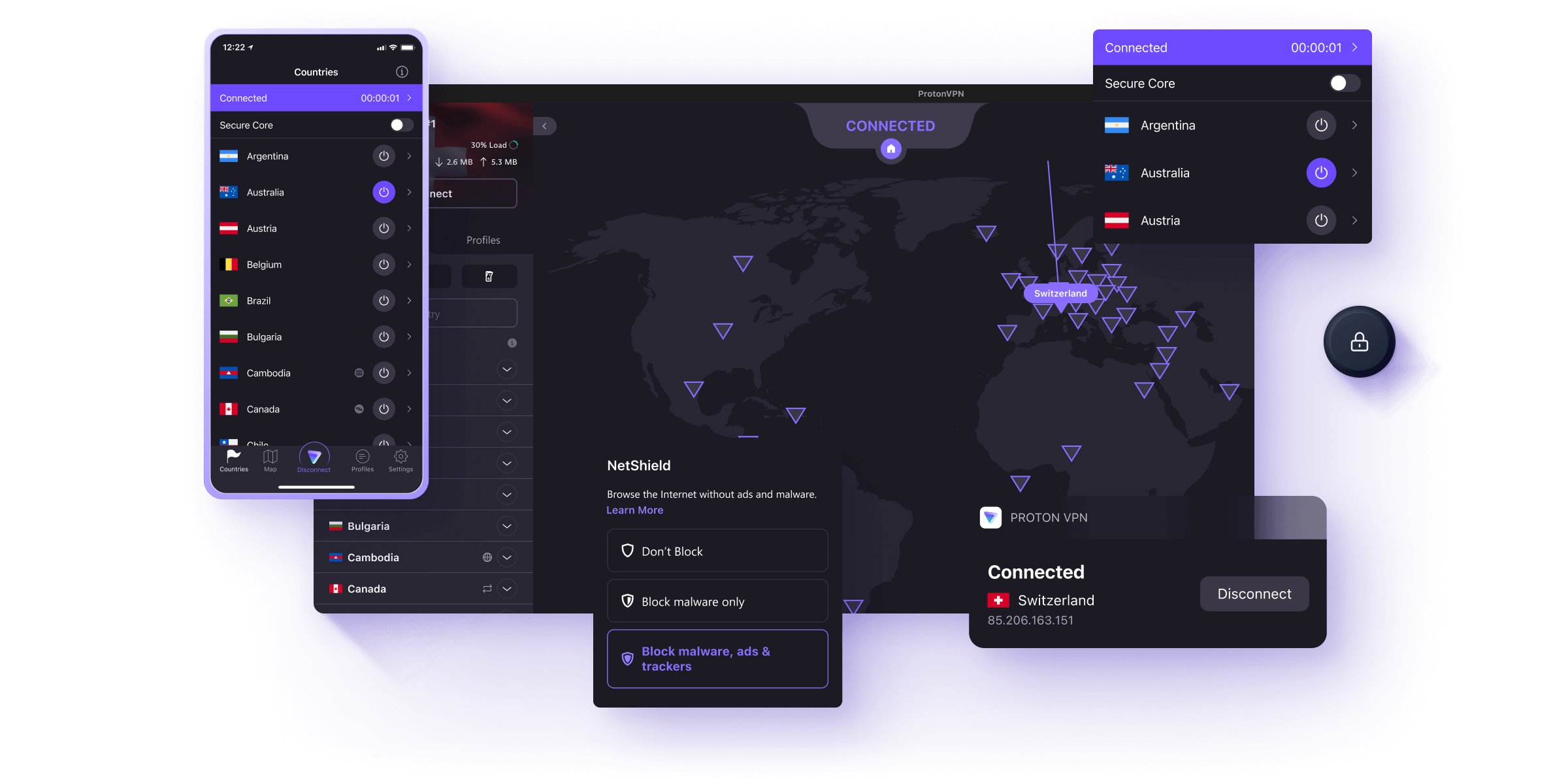 ProtonVPN is very underrated but one of the best VPN service with Global VPN Server Network that safeguards your privacy.
Data Encryption: It uses AES (Advanced Encryption Standard) with AES-256 or ChaCha20. This encryption standard is rock solid and trusted by the cyber security experts to encrypt the information.
It would take advanced computer billions of years to break AES-256 with a brute-force attack.
No encryption cipher is unbreakable, but it would still take billions of years to break through your sessions.
IP Address Masking: ProtonVPN runs its own DNS servers to encrypt your DNS queries in the VPN tunnel.
ProtonVPN has over 1,400 VPN servers with speeds up to 10 GBPS.
You can always access geographically restricted content with increased speed by over 400%.
Anonymity: ProtonVPN follows a strict no-logs policy and does not store any information about your browsing sessions, session durations, and any other metadata that could identify its users.
Kill Switch ends all traffic to prevent your IP address from being accidentally leaked.
NetShield Ad-blocker prevents online trackers like adware and malware from infecting or monitoring your device.
Final thoughts: ProtonVPN servers are in countries with strong privacy laws. It is our favourite VPN Service for its commitment to security and privacy.
---
ExpressVPN service is engineered to protect your privacy and security with better functionality and ease of use compared to other VPN service providers.
If you are looking to keep your online activity from prying eyes or simply want to access region-restricted content such as Hulu in the US, then ExpressVPN service is your best bet.
It is a cost-friendly option for the beginner with advanced technical features.
There are two major benefits to ExpressVPN's virtual private network (VPN) technology.
You can appear to be in a completely different country than you really are.
Your internet traffic appears to be coming from the VPN server instead of your home or office computer.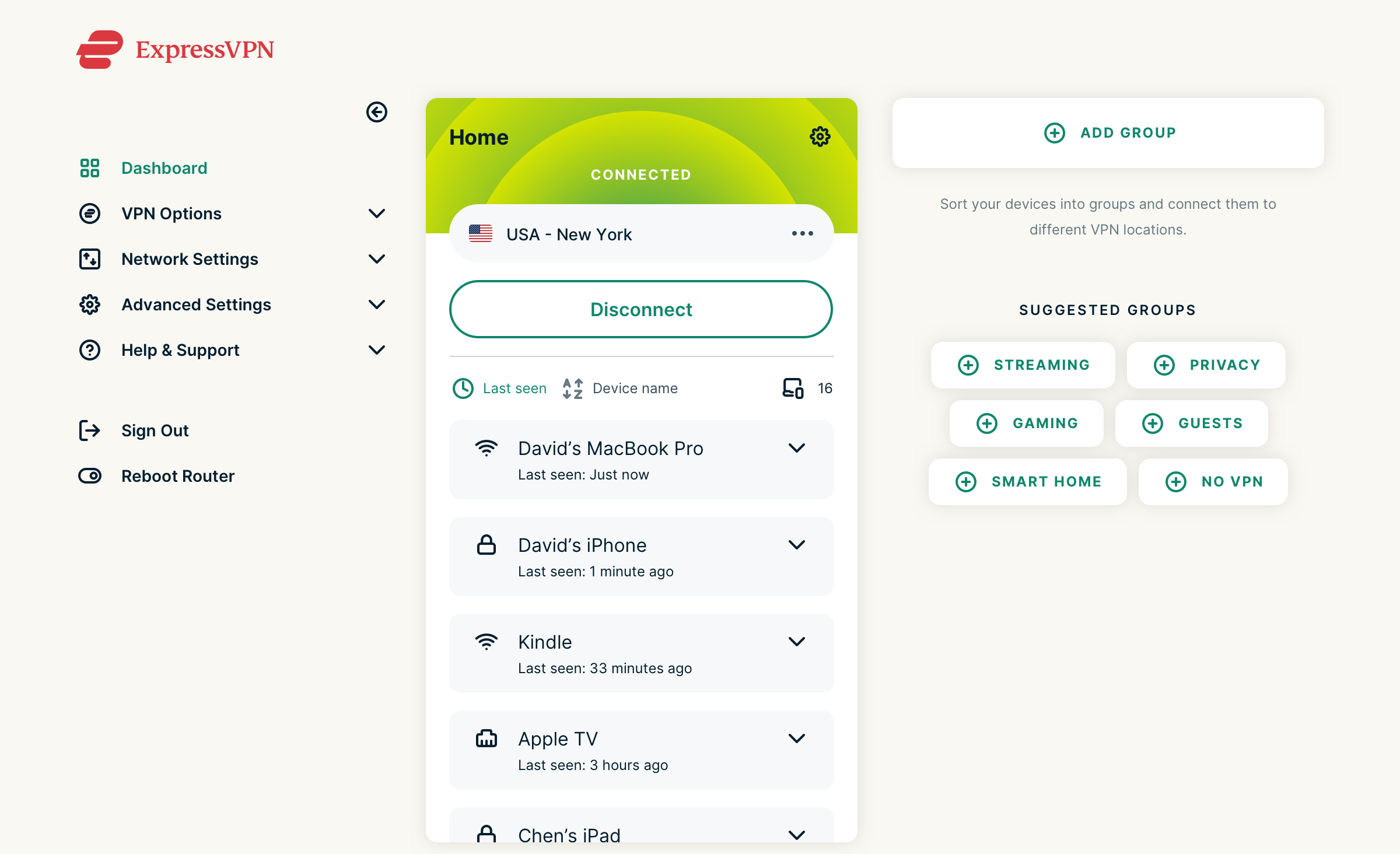 If you are serious about privacy (and you have the budget), ExpressVPN is a great choice.
Data Encryption: It uses AES (Advanced Encryption Standard) with 256-bit keys. This encryption standard is adopted by the U.S. government and trusted by security professionals to protect information.
ExpressVPN encryption depends on the well-tested implementation of advanced mathematics.
ExpressVPN has its own private and encrypted DNS on every server.
IP Address Masking: ExpressVPN masks your IP address with its own IP address in the tunneling process.
This IP address is shared with thousands of other ExpressVPN users—making tracking virtually impossible.
The shared IP addresses cannot be traced back to you.
Anonymity: ExpressVPN claims to keep no connection logs to keep your identity private. When you connect to the server locations, you get a different IP address to appear in a different country.
You can browse and nothing can match you with an IP address or timestamp.
You can anonymously with any cryptocurrency or use a wide range of other payment methods.
Final thoughts: ExpressVPN has a strong customer base, and it is one of the simplest yet advanced VPN provider offering great features, expansive support center, including customer support.
---
NordVPN is a secure for increasing your online privacy. They offer robust encryption, fast connection speeds, user-friendly features, and security features to maximize protection.
NordVPN keeps your sessions private and secure by hiding your IP address, and routing all traffic through encrypted VPN servers. It's faster, your web traffic is secure and your IP address can't be tracked.
NordVPN provides strong security with an excellent customer satisfaction record, you can rely on for anonymity.
You can get a strong security and privacy. With NordVPN, you can hide your location, anonymize your identity and browse the web without restraint while keeping your online activity and data private.
Is NordVPN right for you?
NordVPN creates a tunnel to transmit your data to VPN servers securely. NordVPN uses three different security protocols to determine how that tunnel is actually formed.
Data Encryption: NordVPN also uses AES-256 encryption to provide safe and secure service.
This encryption protocol scrambles your online data so that both no one can view or misuse your data.
No one can track user activity or IP addresses.
IP Address Masking: NordVPN encrypts your connection and hides your IP address to mask your internet connection for maximum protection.
NordVPN provides threat protection against malware and other hazards.
You can also use Meshnet to link up with other devices for file sharing or gaming, etc.
Anonymity: NordVPN is a zero-logs VPN service that helps you protect potentially sensitive information.
That they do not store your online activities.
Your initial connection logs are not stored or shared with anyone.
Final thoughts: NordVPN is one of the fastest growing VPN service provider in the market.
---
Norton Secure VPN has a strong security pedigree from the NortonLifeLock (formerly Symantec) name, allowing broader reach, better security, and maximum performance as compared to other VPN service providers.
With Norton Secure VPN, you keep your data secure, disguise your IP address, and access geo-restricted content on the internet.
Norton also provides bundles to new customers purchasing security products. A subscription to Norton 360 security (both standard and ultimate) includes Norton Secure VPN.
Norton Secure VPN lets you choose the most convenient server location in 30 countries with 500+ available servers offering simultaneous VPN connections feature.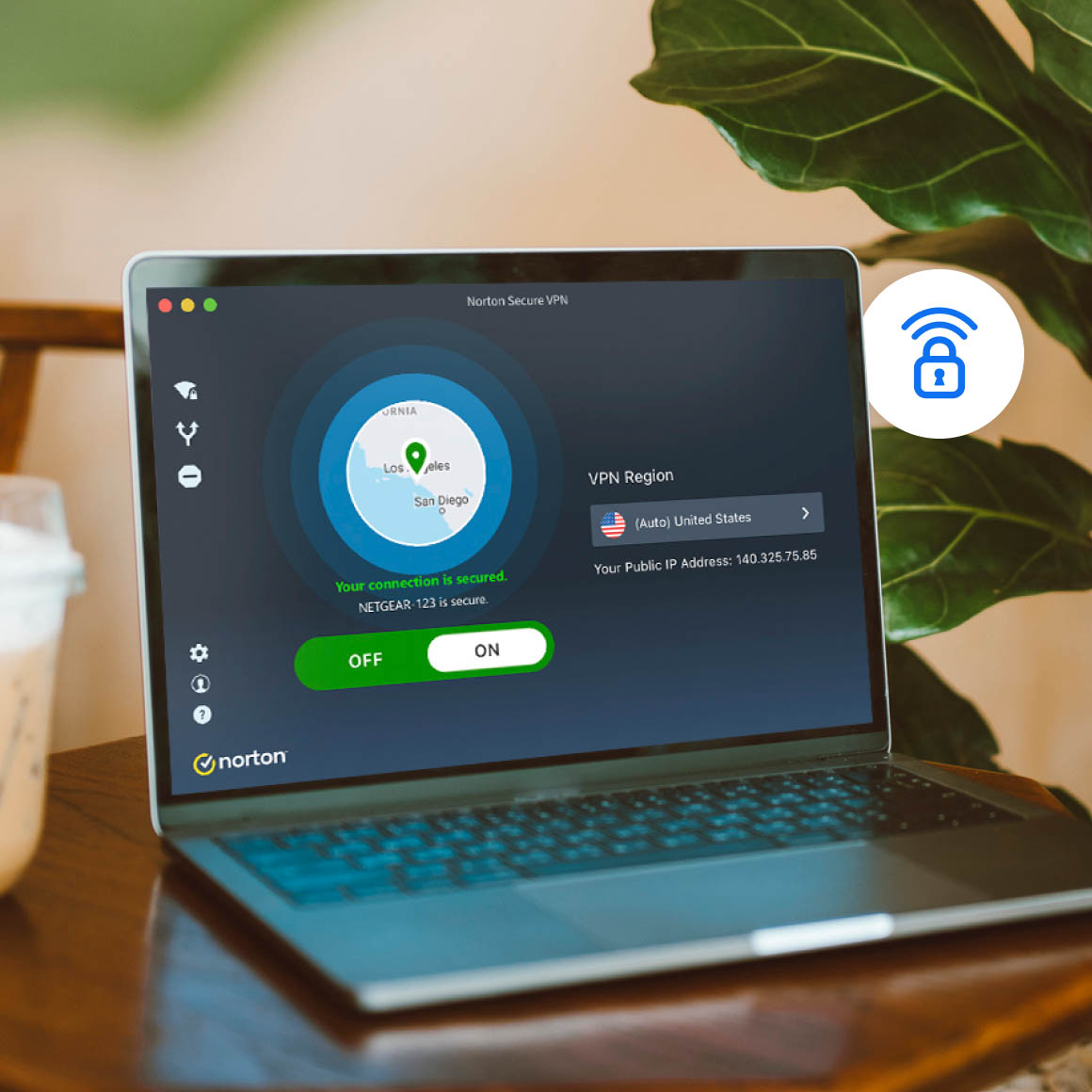 If you are looking for a good and strong VPN, this is the place for you. At the same time, NortonLifeLock takes care of all the nitty-gritty details. Their software and security engineering teams are well respected in the software and security communities.
Data Encryption: Norton Secure VPN has an Encryption strength of AES-256.
Norton claims bank-grade implementation of the encryption to ensure the information you exchange is always secure and private.
This helps protect your identity by shielding your internet data and your location from all entities, including NortonLifeLock.
IP Address Masking: If your VPN connection is lost, your device will get automatically disconnected from the Internet to ensure that your IP address, location, or identity are not accidentally exposed.
Kill Switch feature is limited to Windows and Android only.
A Kill Switch feature stops your computer from sending web requests when the VPN is disconnected.
Anonymity: Norton Secure VPN does not track or keep any logs to learn about your browsing activities.
If you connect to an insecure Wi-Fi network, you will be alerted to secure your connection.
Split tunneling tool allows you to choose which traffic you want to encrypt.
You can block ad tracking to eliminate targeted ads that follow you.
Norton Secure VPN complements its users with 24/7 free technical support service, you will always have a helping hand by your side.
Final thoughts: Norton Secure VPN provides all the assurances of a VPN, including Ad Tracker blocking, Split Tunnel, P2P connections, etc.
---
Atlas VPN has a vast network, plus it's fast, secure, and easy to use. With 750+ premium servers available, and features like SafeSwap and multi-hop to route through over one server at a time, it is a capable VPN service.
There are a lot of paid VPN service providers that claim to offer you a free service. These free versions, most of them, come with constraints, but Atlas VPN provides generous data caps for free subscribers.
If you value speed and privacy to have a smooth online experience, then Atlas VPN is a good choice to have a smooth online experience.
Atlas VPN offers steep discounts if you sign up for long-term subscriptions.
Atlas VPN, like many VPN providers, relies on 'trusted third-party data centers' in 31 different locations. They use tamper-resistant RAM-only servers. So, it's safe to say that the server would be immediately wiped if someone wants to get the data inside.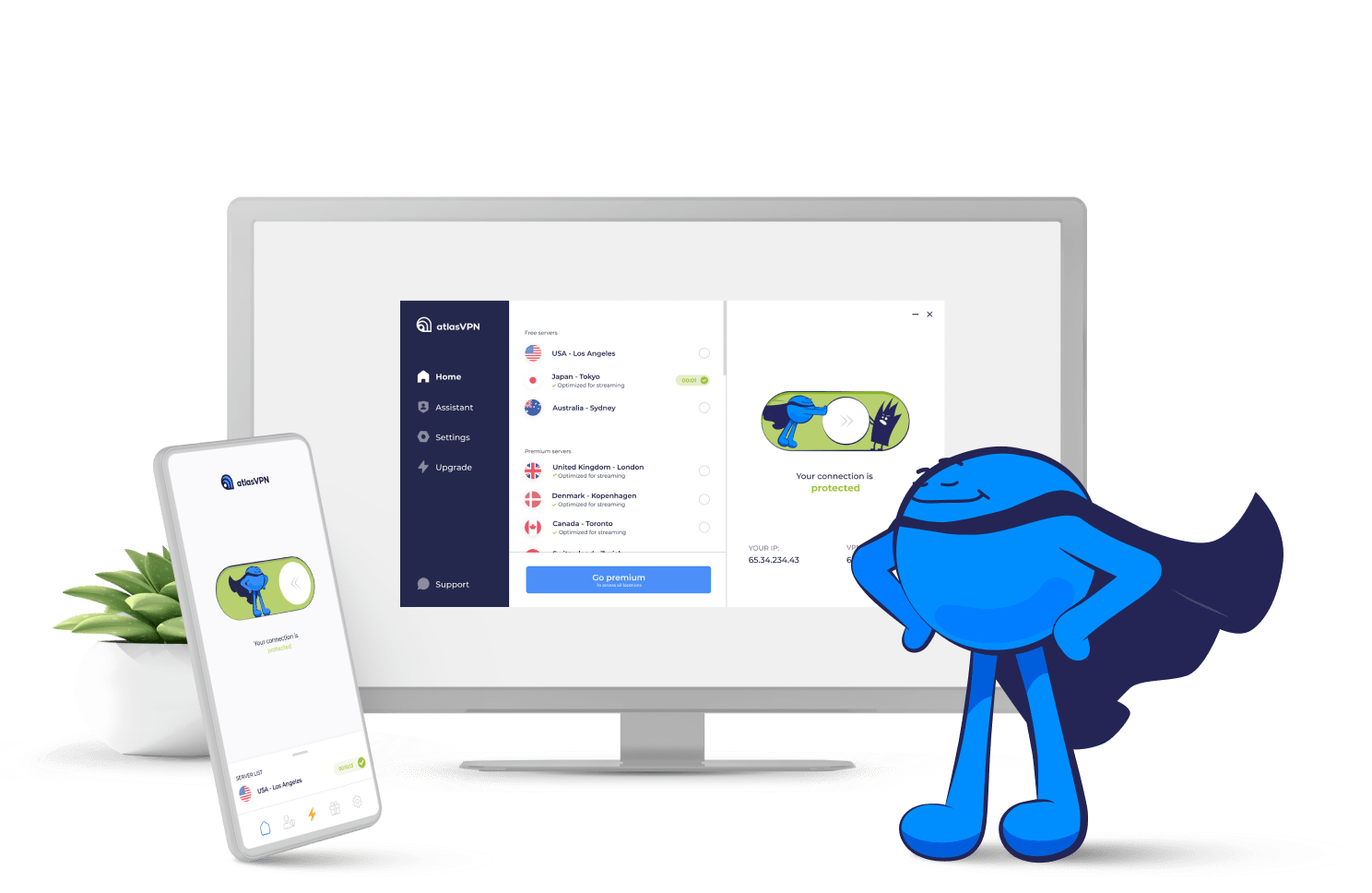 Atlas VPN offers a generous unlimited devices policy that allows you to hook up as many devices as you like with split tunneling and multi-hop connection tool.
Data Encryption: Atlas VPN uses ChaCha20 for symmetric encryption and Poly1305 for verifying data integrity and authenticity.
With AES-256 algorithm, it is efficient and practically unbreakable.
Your traffic will always be untampered with SHA-384 authentication.
IP Address Masking: If you're looking for a VPN service for simple anonymity or want to buy a gift for someone else, look no further than Atlas VPN.
You have an option to block or allow local network traffic, which is helpful for streaming to other devices or accessing network devices.
Network Kill Switch feature stops your computer from sending web requests when the VPN is disconnected.
Anonymity: Atlas VPN does not log IP addresses, browsing history, bandwidth data, or network traffic.
They log connection timestamps, but they are deleted automatically within 15 minutes after you've ended your connection.
They do not store anonymized aggregate analytical data.
Final thoughts: Atlas VPN server infrastructure provides 4k fast streaming, WireGuard protocol, Adblocker, Email Protection, etc.
---
Closing Note
ProtonVPN is simply great, but among our favourite VPN services, you can find much better when upgrading to a paid service. ExpressVPN has flexible pricing with advanced features. NordVPN and Norton Secure VPN offer solid security features with a privacy-protecting account system. Atlas VPN offers unlimited simultaneous connections, but brings more features to the table.
Please make sure before subscribing to any plan, read EULA carefully.
Thanks for making it to the end :)
If you liked this compilation, consider following our Kanger.dev Newsletter on Substack.